Dolls in Media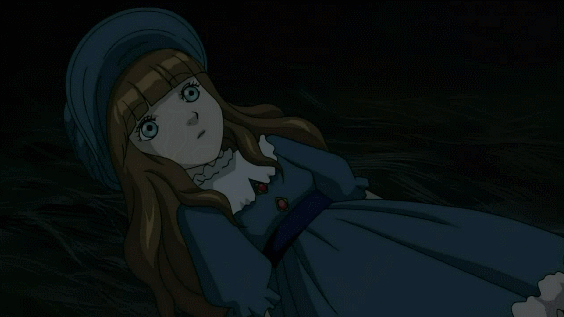 Catherine, Cosette's doll in Shoujo Cosette
Creepy depictions of antique dolls abound, which is a shame, they're very beatiful and artfully made, so I thought I'd collect pretty and positive depictions of them! They'e often depicted faithfully in anime, with rosy cheeks, painted lips, and defined noses, that they amusingly wind up less stylized than the human characters!
GOSICK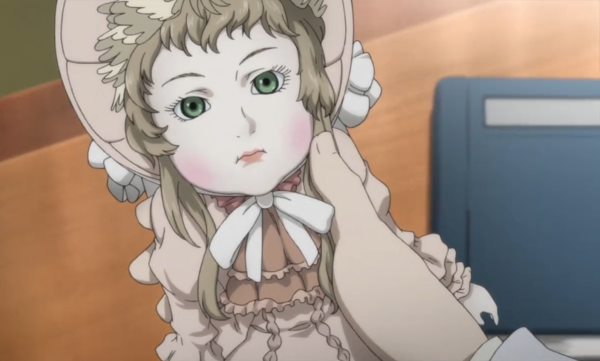 The heroine of the series, the diminutive detective, Victorique de Blois, is often compared to a doll, with porcelain skin, rosy cheeks, and floor-length locks of blonde hair... but she's also a pipe-smoking (in the books, the anime rarely depicts any smoke due to laws concerning depicting child characters smoking!) and rude, bossy and solitary. She is rarely ever allowed outside of her tower before the series began and then confined to her school grounds once the story begins, except with her foolishly inept inspector brother's influence... she solves the mysteries while he takes the credit. He holds this little doll while speaking of how Victorique has no permission to venture into the outside world without his influence. It is symbolic of her and has traits in common with Victorique, but with its small size and differing features, it's less disturbing than the one in the novels and manga, which is so human-sized and so lifelike, it's mistaken for Victorique at a glance!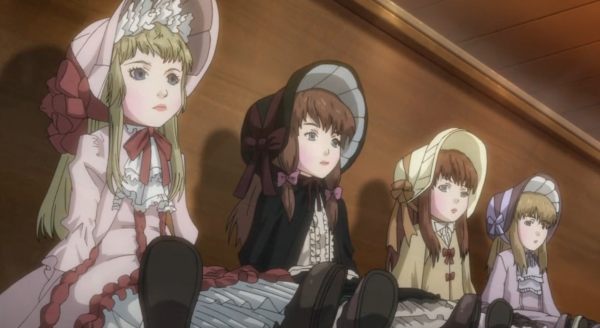 Rozen Maiden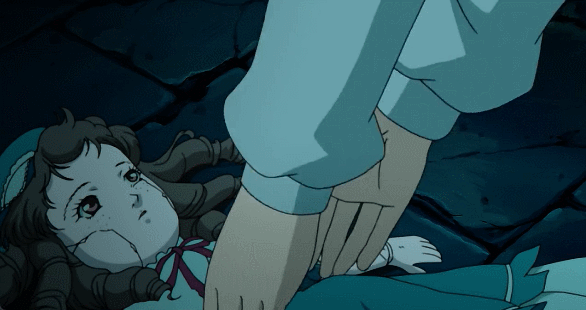 All the main characters, aside from human protagonist Jun (and his older sister, Nori) are near-immortal, sentient, antique ball-jointed dolls, with magical powers, as long as they still have their Rosa Mystica rings, which the source of their power. When Rozen Maidens die, they revert to resembling ordinary dolls, rather than lifelike (if very tiny, doll-sized) girls—like this poor fallen doll seen in Suigintou's dream world. The sight of this doll disturbs the Rozen Maidens, being their equivalent of a corpse, and they express pity for her.
Each of the Rozen Maidens have their own unique style of dress and unique personalities (Hina-Ichigo dresses like a Sweet Lolita and is very cheerful and exuberant, child-like, scribbling in crayon on everything; Shinku, meanwhile, dresses in a very elegant Classic Lolita style, is proud and restrained, but also exhibits high emotional intelligence—despite her outburts—and helps Jun understand others and helps others understand him in turn, Souseiseki dresses in Ouji/Prince or Boy Style Lolita fashion, she even speaks boyishly, so she's easily mistaken for a boy, and a senile old man sees her as his lost son...).